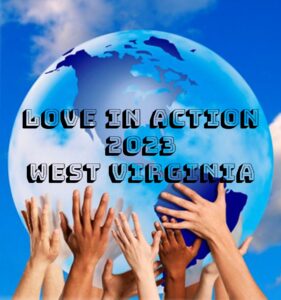 Dear Friend,
Thank you for your willingness to support this event.
Love in Action – WV 2022
August 1-5, 2023
Welch National Guard Armory, Welch, WV
The cost to participate as a volunteer for this event is $325.00 per person. This fee includes the following: registration fee, crusade expenses, all meals, mandatory insurance and an event t-shirt. This fee does not include the cost of your hotel room. Hotel information is provided separately and must be booked individually.
Volunteers must be 14 years or older to participate. All volunteers under 18 years of age must be accompanied by an adult.
Mail completed forms (registration form, waiver, appropriate insurance form) and checks made payable to Gerald Mayhan Ministries to Gerald Mayhan Ministries, PO Box 905, Dumfries, VA, 22026.
The completed registration form, waiver, insurance form and fee are due by July 7, 2023.
Waiver, Release and Indemnity Agreement
Love In Action-WV 2018 Pre-Event Interview on WVVA
He's worthy to be praised. To God be all the glory! Interview on WVVA TV.

Posted by Gerald Mayhan Ministries on Thursday, August 2, 2018
Love In Action-WV 2017 News Coverage